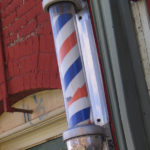 The road trip was less than 24 hours old. We'd left home the previous afternoon, crossed the border from Canada into the US and drove our surprisingly spacious rented Hyundai Sonata a few hundred miles before deciding to stop for the night in Butte, Montana. After a peaceful night's sleep I was up early for a morning run before resuming the trip to southern California.
As I was returning to the hotel I passed a barber shop that had it's door open. Two things caught my attention. The first was the fact the barber shop was open at 7:30 am, The second was that thiswas no ordinary barber shop, it was a window to a time long since past. My curiosity aroused, I headed in.
I was instantly transported back in time. I'm sure my mouth was hanging open as I stared in awe at the scene before me. Every inch of every surface was covered with something. There was an eclectic mix of everything from old 33rpm records, to tin beer cans, to a collection of Shriner fez's creatively displayed on a stand near the entrance. People's faces stared at me from every conceivable angle because the walls were covered with photographs, pictures clipped from newspapers and an assortment of sports posters. There was even a life-sized cardboard cutout of New York Yankee third baseman Alex Rodriguez, A-Rod.
The sound of a good morning greeting jolted me back to reality. A tall man with closely cut hair and a welcoming smile offered the greeting. He was wearing a canvas apron with the words "Joe the butcher" written on the front with permanent marker. I had entered the world of Joe Bugni. Joe pointed to the barber chair, inviting me to have a seat.
The barber chair was right out of the fifties. A heavy swivel chair adorned in silver, with levers that controlled the hydraulics. Several strips of duct tape covered tears in the vinyl seat cushion. Despite being worn and tattered, the chair was quite comfortable.
After a brief exchange of pleasantries, the conversation quickly turned to baseball. I commented on the life-sized cut out of A-Rod, which was adorned with newspaper clippings reporting that he had become the youngest player in Major League Baseball history to hit 600 home runs. Joe is an avid Yankee fan, and I am die-hard Red Sox fan. His shop is amply adorned with Yankees memorabilia, and photographs. Joe was quick to point out the Red Sox cap displayed right next to the Yankee cap as his way of assuring me that he was not one of those rabid fans who wanted nothing to do with the opposing fans.
We talked of the Yankees versus Red Sox rivalry, of it's history and tradition. Joe was a student of the game. He could tell you stories of players and former players back into the late fifties. With each story he told, Joe would interrupt his cutting and reach for, or point to an item for emphasis. He explained things as if they happened just yesterday. As he explained each item, he would pause to provided a history of how he came to acquire the treasure.
According to Joe, everything in the shop was donated. No doubt by admiring patrons or friends who enjoyed their time in Joe's barber chair. I happened to be wearing a University of Lethbridge ball cap that I offered as an addition to the collection. Joe quickly accepted, asked me to autograph it, and was glad to have it added to his "living history" museum. I was honored to become its latest contributor.
All too quickly the visit came to an end. Without realizing it, I had spent almost an hour in that barber's chair. I didn't want to leave. There was so much more to learn. I reluctantly got up from the chair, paid the $6 for my haircut and left him a $14 tip. As I was leaving, I promised to return with my wife and daughter before we left town, so they too could enjoy this slice of Americana.